Couples Dance Instructions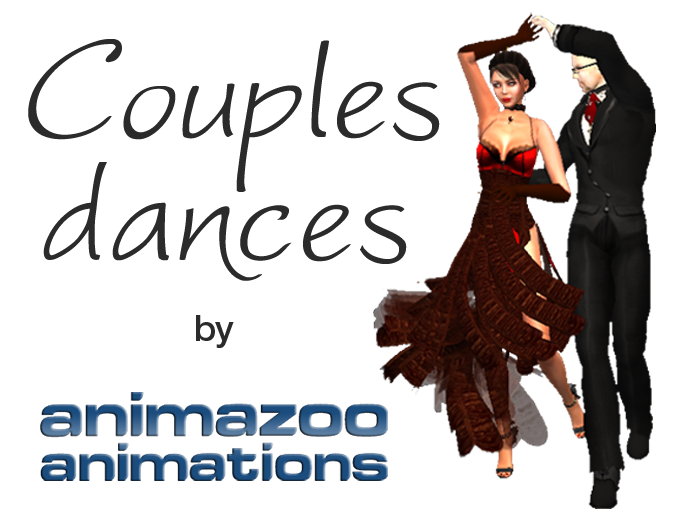 Welcome to the help pages for Animazoo Couples Dances. On this page you will find the couples dance instructions.
Couples Dance Instructions: Overview
These dances are TIS compatible. TIS automatically detects the animations dropped into its contents, no further configuration is required.
These dances are Intan compatible. See the 'Intan loading instructions section below
If lag causes you and your dance partner to go out of sync, simply type /1sync in the chat window and the dances will re-synchronise
The poseballs each contain one high quality, looped dance and one pose. The pose is played when only one person is sitting on a poseball
The height at which your avatar dances is adjustable by simply pressing the page up / down keys
Package contents
Inside the package you have bought you will find the following:
1) Animazoo couples poseballs
2) Copies of the individual dance animations
3) A box called 'Intan Ready'. This box contains everything you need to add your Animazoo dances to your Intan system.
Poseball instructions
1) Rez the poseballs and sit on the male poseball. Edit the poseballs and adjust the height so that your avatar's feet are correctly placed on the ground.
2) Have a second avatar sit on the other poseball. The avatars will start dancing.
3) To adjust the height of your avatar, simply press 'page up' or 'page down'.
4) To re-synchronise the dance, simply type /1sync
5) Enjoy!
Resetting your height adjustments
Clicking the balls when not occupied will bring up a menu. From the menu you can reset the avatar height adjustments or get a copy of these instructions.
Intan loading instructions
IMPORTANT NOTE
If you purchase Animazoo (AZ) couples dances that are Copy / NO TRANSFER, these cannot be loaded by your Authorized Loader or friend. In addition, you will not be able to transfer your Couple Dance Ball to anyone unless you first remove the copy / NO TRANSER animations from it.
1. Rez the 'Intan Ready' box that you bought from Animazoo (AZ) or DMC – DarkMoon Creations
2. Right-click on the box and choose 'open'. – Click 'copy to inventory'
3. Take the animations and the supplied config file and drop them to your Intan Couple Dance Ball