Make your own animations
Make your own animations: Animating for Second Life can be hard work and confusing, but that's part of what makes it so rewarding! We're often asked about how it's done, so to help get you started, we've compiled a list of links for tutorials and software that can help you. This is not presented as a definitive list – if there's tutorials you'd like to see added, please contact us!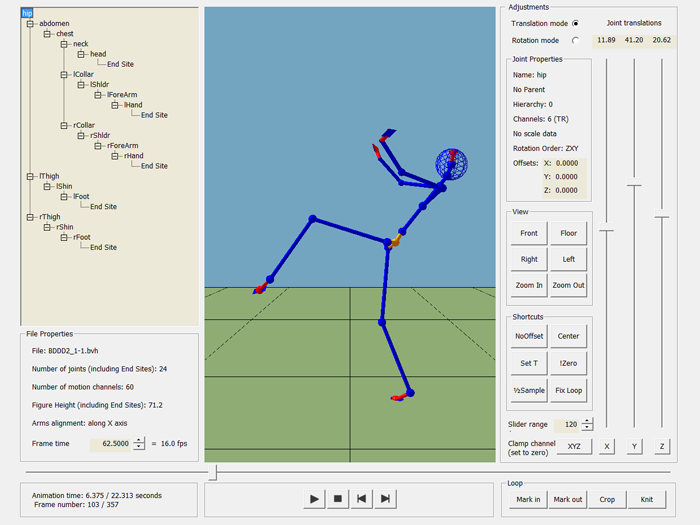 Methods
There are essentailly two methods to make your own animations; Motion Capture (mocap) or Keyframe animation. Motion Capture involves the use of specialised equipment to record a live actor / actress's movements and retarget them to a base skeleton. Keyframe animation techniques involve the manual positioning of body parts using software and a base skeleton.
You can download a suitable male base skeleton here and a female version here.
Software
click on the software name to be taken to the site:
bvhacker (free)
bvhacker started life as a bvh file conversion tool for Second Life animation. Since then it has evolved into a quick loading tool ideally suited for preparing animation files for Second Life.
Ipsoft (commercial)
iPiSoft's iPi Desktop Motion Capture is an entry-level markerless motion capture technology that lets animators shoot video that can easily convert to professional 3D quality animation. By combining iPi with the X-Box Kinect, it's possible to set up a home mocap system for a few hundred dollars. See YouTube for tutorial movies.
Animeeple (free)
With animeeple, you can preview edit retarget sequence shop for 3D characters and animations
Avimator (free)
Avimator is an easy-to-use, open source tool for creating and editing avatar animations for Second Life. It is a free alternative to Poser and Maya, and it runs on Windows, Mac OS X, and Linux.
DAZ studio (free and advanced versions available)
I've not used DAZ studio, so am unable to make any comment. However, it does seem to be growing in popularity with the community.
Curious Labs Poser (commercial)
It's many years since I had access to Poser, but I can say that it was originally the de-facto animation platform for Second Life and is still a popular choice amongst Second Life animators.
Alias MotionBuilder (commercial)
MotionBuilder, with it's steep learning curve and high price is the professionals choice. Before you start, you will need to create your own Second Life character models in the FBX format using either 3DStudio Max or Maya. There is a personal learning edition (PLE) available for free non commercial use, but the limitations may prevent you creating or importing characters. Not for the faint hearted!
3DStudio Max / Maya (commercial)
Both these applications can be used to create animations.
Tutorials
Click on the text to be taken to the tutorial on how to make your own animations:
Using bvhacker for final preparation and uploading
Final preparation and uploading
Using poser: not specific to Second Life, but well worth a read
Ulrika Sheim's excellent animating for SL tutorial. Sometimes not available
Alias MotionBuilder tutorials at the mocap club – these guys rock!
There are many more tutorials out there, this list is provided as a small selection.